Static caravans for sale
At Haven, we believe we have the best static caravans for sale to suit all tastes and price ranges. Our 39 parks are sited in incredible coastal settings giving you choice when it comes to picking out your perfect park and location. Start discovering your dream without any delay and get in touch with us today - our team will help you to find you a static caravan and holiday park you'll love.
Discover caravans and lodges for sale
Dreams can come true
Owning your own slice of British paradise really is the dream, and with our prices, it can become a reality. We've got lots of static caravans ready and waiting for you to choose from, so what are you waiting for? We've both modern and traditional caravans for sale at affordable prices, and our APR rate of 10.6% helps to make the monthly finance and the total repayment figure manageable.
Low affordable prices
100s of caravans with incredible savings
Finance option available (subject to criteria)
We've got a whopper of a deal for you!
Buy a holiday home at selected parks and we'll throw in your 2023 site fees for FREE. And with competitive prices and a finance option available, there's something for a wide range of budgets. *T&Cs apply.
​You'll have your holidays covered for years to come, with the freedom to take as many as you want, when you want.

Think of the thousands of pounds you'll save! And you can even earn an extra bit of cash with our fully managed letting service. (Letting service not available at Far Grange).

​It's time for you to own a place where you can be free, that's right by the sea and is totally hassle free.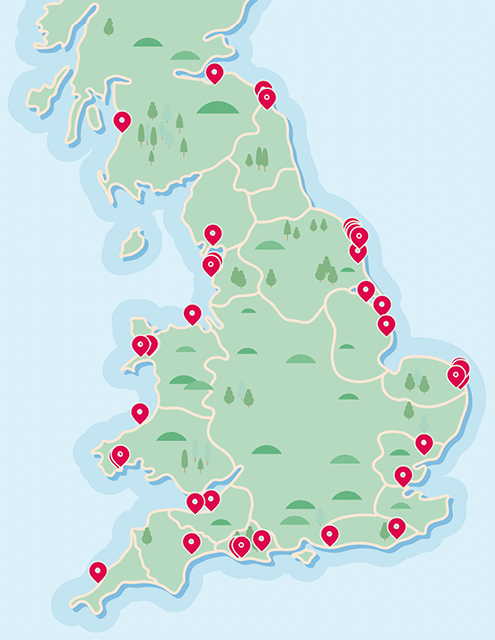 Our 39 parks across the UK
When you own your own holiday home in the UK, a quick escape is always on the cards. You're bound to find the one for you. All of our parks are at or near the Great British coast, full of fresh air and beautiful scenery and offer our owners exclusive facilities and benefits.
Why buy with Haven?
For 50 years we've been a trusted brand and provider of on-site static caravan and lodges. Our dedicated owner teams support our 25,000 owners and help to foster a friendly community. There's incredible value to be had from owning at a Haven, something we all need in this current climate.
We're a National Caravan Council member meaning you can buy with confidence
Stunning holiday parks dotted around the UK's coastlines
Incredible selection of static caravans at low prices with a fantastic finance option
30-day money back guarantee if you change your mind
Earn money using our stress-free lettings service
Exclusive owners benefits, discounts and events
Need caravan ownership help?
Speak to our holiday home experts who will answer your questions and tailor any recommendations to your individual needs. Call us on 0333 202 1441
Opening hours: Mon-Fri 9:00-18:00, and Sat & Sun 10:00-17:00.
Incredible owner-only benefits
Check out the many amazing benefits to owning a Haven static caravan. The best way to learn more about ownership at Haven is to take a tour with one of our amazing team around one of our beautiful parks. Book an ownership park visit below.
Unlimited holidays during the season for you and your family

Exclusive owner-only events and activities

Beachside and coastal locations

12 x Owners Cards, giving you 15% off on park

50% off sports and leisure activities
Buy with finance and use Let2own - own from £469 per month
It's simple, when you sign up to Let2own you commit to letting your new holiday home for 15 weeks in the year - 8 of which are off-peak**. You may then pay your site fees and receive your letting income in 12 equal monthly payments. The monthly site fee amount charged by Haven will be after deduction of the letting income. T&Cs apply††.
Our manufacturers
Having been in the caravan holiday home business for years, we've built great relationships with all the best static caravan manufacturers in the UK including ABI, Atlas, Swift and Willerby. We work really closely with them to bring our owners the very best selection of static caravans to choose from, depending on their exact requirements.
Luxury lodges
If you're looking for the ultimate in luxury then look no further than our lodge caravans for sale. Our lodges are set in some of the most beautiful locations in the UK which offer you the best in comfort and relaxation. When you need to get away from it all with your family and friends, our lodges can be found in 5 perfectly placed locations.
The lodge lifestyle can be anything you want it to be, but once you discover the close-knit communities, exclusive on-site facilities and stunning landscaping around your lodge, you'll long for nothing else.
Frequently asked questions
There are many things to consider when buying a static caravan.
Firstly, you need to think about what your family needs are, such as how many bedrooms and bathrooms, and whether you'll want central heating.
Secondly, you need to consider what your budget is, and can you get the caravan you want with the budget you have.
A static caravan stays in one place. When you buy a static caravan at Haven it will be sited on one of our 39 holiday parks. Unfortunately, we don't have static caravans for sale to be moved to other holiday parks.
Many of our Haven Approved used static caravans will already be sited on a specific pitch, which means you could own your own caravan within 7 days. Subject to finance arrangements. If you're buying a new caravan, or want a Haven Approved used caravan but on a different pitch, then you may have a wait for the pitch you would like to become available and the caravan to be sited on it.
Haven is National Caravan Council member, which means we follow a consumer code of practice and a set of minimum standards.
One of the most important things you can do is to make sure you read your contract thoroughly and seek legal assistance if needed.
A static caravan is a lifestyle investment, not a financial investment. Static caravans depreciate at a similar rate to cars.
From new, a static caravan can be expected to last for up to 20 years. Of course, this depends on factors such as how well the caravan is maintained.
Buying a static caravan is a big decision, and not one that should be taken lightly. It's important to think about the reasons why you want to own a holiday home and how much usage you'll get from it. It's not the right decision for everyone, so you should think about the pros and cons carefully.
The average depreciation rate of a static caravan is similar to that of a car. It's also worth bearing in mind that newer caravans depreciate more quickly than older caravans.
You'll need to buy a TV Licence for your static caravan if anyone, at the same time, is watching or recording live TV on any channel or watching or downloading BBC programmes on BBC iPlayer at your main licensed address (your home address).
As the holiday home isn't being used as your sole dwelling (this is known as a residential holiday home), you won't be liable to pay council tax on it.
Our parks are holiday parks, not residential parks. Your holiday home is designed to be used for holidays, leisure breaks and recreation.
A mortgage isn't an option when purchasing a holiday home, however there are two ways to pay for your static caravan:
1. Payment in full – Up to £1,000 can be accepted in cash with the remainder paid by cheque, BACS, credit or debit card.
2. Park finance – A minimum of 10% of the value of the holiday home is required as a deposit when using our park finance option. All details can be processed on park. Subject to status.